Credit Union Failures and Red Flags Violations - NCUA Chair Speaks Out
Interview with Deborah Matz on the State of the Nation's Credit Unions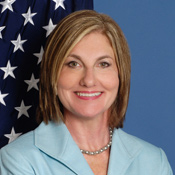 I
See Also: Data Breach Battle Plans for Financial Services
n August, Deborah Matz succeeded Michael Fryzel as chair of the board of the National Credit Union Administration
(NCUA)
, the independent federal agency that charters and supervises federal credit unions.
Now, in an exclusive interview with Information Security Media Group, Matz says candidly:
2010's credit union failures may exceed 2009's;
55 credit unions have been found in violation of the ID Theft Red Flags Rule;
50 new examiners are on the job in 2009, and another 57 will be added in 2010.
Related Content
Prior to her appointment to the NCUA Board by President Barack Obama, Matz served a previous term on the NCUA Board, and she also served as a Deputy Assistant Secretary in the U.S. Department of Agriculture and on the Congressional Joint Economic Committee. Most recently, she was Executive Vice President and COO of Andrews Federal Credit Union in Maryland.
Following is the complete text of the interview with Matz.
Tom Field: Tell us about yourself, please, and your experiences that have led you to the NCUA chairmanship.
Deborah Matz: As you may know, I am the first NCUA Chairman to have the privilege of serving a second term on the NCUA Board. During my first term from 2002-2005, I developed an initiative called Partnering And Leadership Successes. PALS encouraged credit unions to share best practices and reach new markets in an effort to serve everyone in their field of membership.
When I received a call from the White House personnel office in 2009, and the caller told me that the president wanted to know if I'd be interested in going back to NCUA as Chair, I didn't hesitate before saying yes.
More than ever, I believe in that old saying: "It's not the distance you travel, but what you learn along the way." In those intervening years, I had the opportunity to see things from the perspective of a regulated institution, serving as an officer at a credit union.
Field: What do you see as your greatest challenges in this new role?
Matz: Between 2005 and today, the economic landscape in which we operate - and the challenges we face - have changed considerably. So I know that I can't simply pick up where I left off.
As a member of President Obama's NCUA transition team, I learned last fall that it might be necessary to conserve the two largest corporate credit unions. We are still addressing the challenges posed by these corporates' investments in mortgage-backed securities.
While the severe economic downturn which propelled the corporate credit union crisis was not predictable, there are steps that could have been taken which might have mitigated or prevented its effect on those corporates. In 2002, the last time NCUA wrote a corporate regulation, I cast the lone vote against it. I did not believe it adequately addressed the crucial issue of risk concentration. Additionally, I believed that the investment authority being granted was overly broad and permissive, particularly in light of the complexity of the financial instruments that were available to the corporates.
I am applying these principles as NCUA begins a new round of corporate rulemaking to address the current problems. During the rulemaking process, I have committed to consider all viewpoints, insist on thorough analyses of data, and develop a rule that provides both appropriate safeguards and sufficient opportunities for credit unions to thrive.
Field: Given the year we've experienced, what is the state of credit unions today?
Matz: Retail credit unions have their own challenges, independent of the corporates. The good news is that despite the troubled economy, credit union lending has increased by almost 8% since 2007. However, delinquencies and loan losses have also increased, particularly in real estate lending. In 2007 about 0.3% of real estate loans were delinquent. Now the figure stands at 1.62%.
Industry-wide capital, while still strong, has declined from 11.8% in 2007 to 10%. On the one hand, I am encouraged by the fact that 98% of the 7,700 federally insured credit unions are at least adequately capitalized. On the other hand, 21 credit unions have failed so far this year, compared to 18 in all of 2008. That number could well rise in 2010. Most troubling is the increase in credit unions which have been downgraded to CAMEL 4 and 5. Between December 2008 and September 2009, the assets of credit unions in these categories have almost doubled.
Latest Tweets and Mentions