Swine Flu: 5 Tips to Ensure Pandemic Preparation
Expert: "The Question is: Are We Ready?"
By Linda McGlasson, April 29, 2009.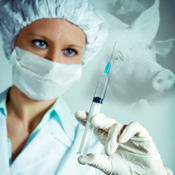 T
See Also: Financial Malware: Detection and Defense Strategies
he Swine Flu, if unchecked, could prove to be the pandemic that industry experts have warned about, and so financial regulators and institutions are preparing for the worst.
This new outbreak, which began in Mexico and has now spread to the US, Canada, several South American countries and parts of Europe and Asia, has led governments, including the U.S. to declare a state of emergency. The World Health Organization (WHO) on Monday changed its pandemic alert level to Phase 4 for the first time, which means the transmission of the Swine Flu has now reached sustained, human to human transmission. Pandemic status begins at Phase 5.
Related Content
"All institutions should have contingency plans," says David Barr, spokesperson for the Federal Deposit Insurance Corporation (FDIC). Indeed, regulators have been closely watching the developments of pandemic planning by banking institutions, and issued two interagency advisories (Advisory 1; Advisory 2) on a pandemic flu situation.
The industry has prepared for such an event since 2006, says business continuity planning expert Dana Turner. "The question is: Are we ready? The answer is no. I think we're more aware -- there have only been tests, including the national industry desktop exercise held in the fall of 2007," Turner says. "But now we're facing the possibility of having a real pandemic."
How Prepared Are We?
The 2007 desktop exercise had 2500 institutions participating, says Doug Johnson, Senior Policy Advisor at the American Bankers Association (ABA). Johnson says even if the current pandemic situation doesn't get any worse and dissipates, "This is one of those teachable moments that answers the questions of BCP planners who have been wondering all along if their work meant anything or held any value for their institutions. It's time to impress upon employees and customers the importance of their work and their role."
Anthony Demangone, Director of Regulatory Compliance at the National Association of Federal Credit Unions, (NAFCU), sees there are some "good news" points coming out current events. "There has been a lot of work done in preparing for this. The FFIEC made it mandatory that every institution have a pandemic plan in place."
Turner likens the preparations and testing so far as a kind of "driver education course." A new driver takes all the training on a simulator, "but until they get behind the wheel and drive for real, they don't know how well they will do," Turner notes. One area that is of great concern in his estimation of the industry is smaller, community banks and credit unions that, because of their lack of additional resources, might suffer in a full-blown pandemic situation.
Turner's advice to them: "They don't have to look too far for help. The FFIEC, FRB, OSHA, NCUA, CDC all have much information available for preparation and planning. It's a matter of finding out what is pertinent to them in their situation."
Future of Pandemic's Path, Actions
Institutions may want to look to local authorities to find out at what point they would begin social distancing, including when schools could shut down, says Demangone. "This is because institutions will need to consider what employees will need to do," he says. A secondary effect of schools closing down is parents have to stay home, which means institutions would be affected in terms of manpower for the week, two weeks or even longer if schools indeed closed.
He also recommends as a precautionary measure to check with the ATM processors the institution uses. "Ask them who will be loading machines, will they be prepared and will they be loading enough money into the machines when they are being loaded?" One recommendation: Institutions that may face reduced ATM loads may want to consider loading $50s and $100s in ATMs instead of just $20s.
Institutions may also consider raising non-banking institution ATM fees, so the institution's own customers have access to money in ATMs. "This is not to gouge non-bank customers, but to ensure your customers have access to cash."
Telecommuting, Demangone says, is an interesting solution, but it has pitfalls. "It has to be tested and retested to ensure that work can get done." The "last mile" hurdle of slow Internet access to employee homes is also another consideration when deciding whether employees will be effective in telecommuting.
Latest Tweets and Mentions