Top 10 Security Breaches of 2008
Ghost of Christmas Past (TJX) Still Casts Specter on Present and Future
By Linda McGlasson, December 22, 2008.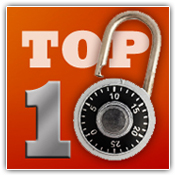 F
See Also: Actionable Threat Intelligence: From Theory to Practice
rom Hannaford to Countrywide to the Bank of New York Mellon, 2008 has been a year of high-profile security breaches in or impacting the financial services industry. Here's our list of the top 10 - and lessons that should be learned, so we aren't back revisiting these issues in '09.
1. TJX Case Winds Up, Arrests Made
Earlier this year, The TJX Companies (parent of retailer TJ Maxx) settled in federal court and paid out millions to its federal regulator, the Federal Trade Commission, banking institutions, credit card companies and consumers to bring to a close the court cases that had threatened to overwhelm the company.
Related Content
The August arrest of 11 alleged hackers accused of stealing more than 40 million credit and debit cards brings law enforcement closer to closing what is still the largest hack ever. The U.S. Department of Justice brought charges against 11 alleged hackers from around the globe. Some of the hacking gang were nabbed and brought to the U.S. to face trial alongside three U.S.-based defendants. Two of the defendants, Christopher Scott and Damon Patrick Toey, have already pled guilty in the case. Others including the ringleader, Alberto Gonzalez, await trial.
Lesson Learned: The wide-range of the perpetrators brings to light something that those in the cyber intelligence realm have known for some time: Criminal hackers are part of a very mature and multi-billion dollar industry that reaches around the world. No organization is immune to the threat.
An unencrypted backup tape with 4.5 million customers of the Bank of New York Mellon went missing on Feb. 27, after it was sent to a storage facility. The missing tape contains social security numbers and bank account information on 4.5 million customers - including several hundred thousand depositors and investors of People's United Bank of Connecticut, which had given Bank of New York Mellon the information so it could offer those consumers an investment opportunity.
Lesson Learned: For Bank of New York Mellon, know that when data is released to a third-party that their security is as good or better than yours. Encryption isn't just something that is good for the data held at an institution; it's also something to consider for data that leaves the institution.
In March, the Maine-based Hannaford Brothers grocery store chain announced that 4.2 million customer card transactions had been compromised by the hackers. More than 1800 credit card numbers were immediately used for fraudulent transactions.
The affected banks and credit unions were forced to reissue the credit and debit cards. Within two days of the breach announcement, two class action suits had been filed on behalf of customers against the retailer. The retailer claims its systems were PCI-compliant and had passed a PCI assessment shortly before the hack was discovered.
Lesson Learned: The case is still open, and forensic reports by security investigators brought in by Hannaford have not been made public. The PCI Security Council has pledged that if the PCI requirements are found to be wanting in light of the report, they will make changes to tighten the requirements. Cases such as Hannaford may be the impetus behind legislation to require prompt notification of a data security breach.
In August, a former Countrywide Financial Corp. senior financial analyst, Rene Rebollo, was arrested and charged by the FBI for stealing and selling sensitive personal information of an estimated 2 million mortgage loan applicants. How he did it over a two-year period was to download about 20,000 customer profiles each week onto flash drives, working on Sunday nights, when no one else was in the office. Rebollo then took the excel spreadsheets to business center stores to email to buyers.
Countrywide, now owned by Bank of America, was already facing money and reputation issues because of the subprime loan meltdown before it faced the insider threat of Rebollo.
Lesson Learned: While Countrywide and Bank of America now know firsthand what a rogue insider can do, other institutions need to do a better job of monitoring their employees and creating asset controls. As the economy continues to produce layoffs, this threat may become even more so, as fearful employees look to cash in on their trusted status and take data just in case they face unemployment.
Latest Tweets and Mentions