Events , RSA Conference 2015 , RSA Conference 2015 Videos
Adopting the Cybersecurity Framework
Interview with Unisys CISO David Frymier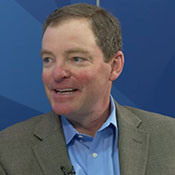 David Frymier, the chief information security officer at Unisys, says the IT services company believes it will be a more secure company by adopting the federal cybersecurity framework.
See Also: 2017 Predictions on Data Security: Insights on Important Trends in Security for the Banking Industry
In a video interview at the RSA security conference with Information Security Media Group, Frymier:
Explains why Unisys, which advises other organizations on IT security, adopted the framework;
Discusses the processes Unisys used to implement the framework; and
Addresses the inherent protocol flaws of the Internet.
As CISO, Frymier leads the overall evolution of Unisys information technology strategy and implementation to accommodate mobility and the adoption and effective use of consumer technologies in the Unisys infrastructure. He holds a bachelor's in economics from the University of Virginia and is a CISSP.