A $40 Million Mortgage Fraud Lesson
Case Highlights Banks' Struggles to Detect Collusive Fraud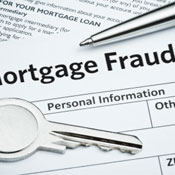 A California loan originator helped push more than $40 million in fraudulent loans through an Arizona bank, leading to tens of millions in financial losses for the institution.
See Also: Live Webinar | Benchmarking Your Organization's Security Performance with Security Ratings
Thomas Gregory Alexander of San Diego on Nov. 5 was sentenced in a U.S. District Court in Arizona to 10 years in prison and five years of supervised release after pleading guilty in June 2011 to charges of wire fraud and conspiracy to commit wire fraud.
He also has been ordered to pay approximately $5.5 million in restitution.
Alexander's fraud schemes involving falsified documents ultimately led to the sale of Mesa Bank, the Arizona community bank rocked by significant fraud losses, authorities say. And the case illustrates why lending institutions must track the activities of originators and thoroughly examine all loans to help avoid collusive mortgage fraud.
"This bank apparently took a lot of loans from this single originator, which is not uncommon," says Shirley Inscoe, a fraud analyst at financial consultancy Aite. "If they had talked to a single client who told them they signed blank forms, didn't make a down payment, etc., this crime could have been shut down much sooner."
Challenge for Banks
Court records reveal that from 2005 to 2007, while working as a loan originator for American Mortgage Funding, a brokerage firm in California, Alexander defrauded the former Mesa Bank, which at the time had $200 million in assets, by filing fraudulent loan documents from unqualified borrowers.
Authorities say Alexander often directed borrowers to sign blank Uniform Residential Loan Applications, which he and co-conspirators later completed with overstated monthly incomes for the borrowers and overstated balances in the borrowers' bank accounts. Alexander and co-conspirators also falsely stated that borrowers intended to make down payments at closings and misrepresented the intent of borrowers to use the properties as primary residences, authorities say.
Mesa Bank eventually picked up on the fraud in 2008, after detecting a pattern of defaulted loans or loans that were going to default, says FBI Special Agent Manuel Johnson.
Unfortunately, most institutions don't identify collusive schemes until long after the money is gone, mortgage fraud experts say.
In its 2012 Mortgage Fraud Report, LexisNexis says collusion among buyers and sellers - and the agents and entities with which they work - has become mortgage-lending's newest worry. And the schemes are only expected to worsen, says Tim Coyle, senior director for real estate and mortgage fraud at LexisNexis.
"As the market has evolved, the obvious crush of fraud and misrepresentation in the foreclosure, short-sale and REO [real-estate-owned] worlds has forced the issue of collusion to the forefront," he says.
Impact on Bank
The FBI says losses linked to Alexander's scam eventually led Mesa Bank to merge with Capitol Bankcorp Ltd., a $5.4 billion holding company based in Michigan. The institution now operates as Sunrise Bank of Arizona.
Alexander admitted to helping borrowers qualify for loans to buy lots he owned and managed under the company Sea Rock LLC. Alexander profited from those lot sales with inflated appraisals falsely provided by a co-conspirators.
Inscoe says American Mortgage Funding should have questioned Alexander's involvement in the sale of lots he owned. But the losses ultimately fell on the bank, highlighting why it's critical that lending institutions do more to ensure the authenticity of lending documents provided to them by third parties.
"This is a perfect example of why it takes a collusive fraud ring to commit mortgage fraud," Inscoe says. "In this example, we have collusion between the underwriter and the appraiser. It appears all the documents were handled by the underwriter and the mortgages were then sold to the bank."
And collusion is difficult for banks and credit unions to detect. "Documents are created fraudulently or altered and are often faxed to the bank," Inscoe adds. "Erasures or changes are easier to hide on faxed or imaged copies than on original documents."
Lessons Learned
But cutting out the middleman is a step in the right direction. If lending institutions have borrowers file proof of down payments and deposit verifications directly with them, the risk of fraud can be greatly reduced, Inscoe says.
"If the originals had gone directly to the bank, that would have eliminated the opportunity to falsify the documents," she says. "Unfortunately, these steps are part of the process loan originators are supposed to take as part of putting the loan package together."
But prosecutions are going a long way toward deterring some of these schemes. "Although it is highly lucrative, no fraudster wants to end up in jail," Inscoe says.
Alexander was prosecuted under the Operation Stolen Dreams initiative, which launched in June 2010. Organized by the Mortgage Fraud Working Group of President Obama's Financial Fraud Enforcement Task Force, Operation Stolen Dreams has targeted more than 1,500 criminal defendants nationwide. Its investigations have led to 525 arrests in cases that have involved fraud-related losses estimated at more than $3 billion.